Bulk Discounts for Grassroots Fundraising - Wholesale Pricing

Volume & Bulk Discounts for ♦ Grassroots Fundraising ♦ Entrepreneurship ♦ Outreach & Visibility ♦ Community Education ♦ Stores ♦ Non-profit Groups ♦ Independent Activists & Concerned Citizens
Thanks for visiting our website. If you wish to place a wholesale order please either do one of these two methods:
1) Simply give us a call at 888-822-7075 and we'll get you set up right away
or
2) Fill out the form below and we'll get your wholesale account set up. You will receive an email confirmation with the log in details within one business day.
We offer quantity / bulk discounts for everyone who wants to share and distribute our resources by volume purchasing – so whether you work with non-profit groups, stores and schools or are just independent activists and concern citizens you are welcome to receive these discounted prices. These bulk/wholesale discounts are available once your wholesale account is set up. The minimum order for bulk/wholesale is $200.
See our pricing below or download our
volume/bulk discount pricing here in PDF
(click to enlarge)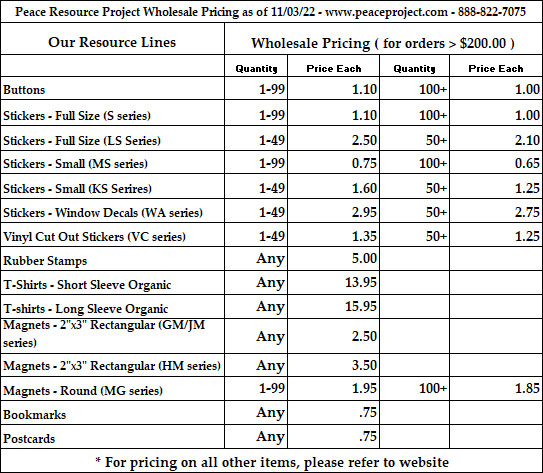 Please note that prices are subject to change without notice.
Please call to verify correct pricing if web price does not match this price sheet.